Hello and welcome back to this holiday edition of the Christmas Tidbits. I hope everyone is having a great time this holiday season! Here's the news!
---
MSSIAH MIDI Software SAVYOUR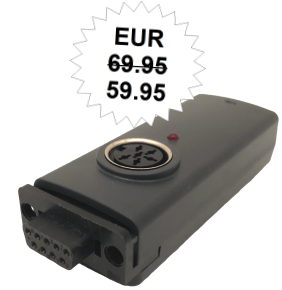 MSSIAH MIDI Software has a new adapter called the SAVYOUR. Currently the SAVYOUR is marked down 10 Euros (I'm also assuming US Dollars).
1541 Emulator
Load/Save on USB memory sticks
USB Mouse/Joystick Interface
Supports 1351, Amiga, Atari Mice
The SAVYOUR is due for relelase in the new year.
---
Bomb Jack DX Announced
Current in it's Beta 7 release Bomb Jack DX is a brand new port of the original coin-op arcade game from the the 1980's. The latest Beta 7 version includes the following updates from the changelog listed below.
Complete new (more aggressive) AI for flying saucer enemy
Jacks flight width is now more original
10 points for releasing a platform or wall
Jack is now 1s unbreakable after power mode
P-coin starts at the center of the screen and in more diversified directions
P-coin color / points changes with every jump of Jack
Bird flies faster after power mode
Fidgeting enemies at end of each round
Mummy sprites with flashing eyes
Nicer "3" and "4" digits in the bonus meter
New fuse design and new burning fuse animation for the bombs
All 5 backdrops optimized to save more RAM and to look even nicer
New wall design for better separation from the backdrops
Bugfix for "black box bomb" bug
No wait for fire button at game over of 2 player mode
No sound / graphic glitches when saving hiscores
Music for game over
Source: Forum64.de
---
High Voltage SID Collection #72 Released

The High Voltage SID Collection #72 has been released over at hvsc.c64.org. The latest SID's in this connection of tunes new and old. They have broken the 52K threshold and now have 52,327 SID's in the collection.
---
Ultimate 64 (& Elite) / U2+ Released
Firmware release 3.6 is online for all targets:
U64 – Core version V1.24 / Ultimate II+ / 1541 Ultimate-II
This is the factory image of the latest production, with support for 1.4 board revision.
Support for Super Games cartridge.
Fixed KCS cart at boot time.
Swapped audio channels, thanks Siegried.
Improved cartridge timing which corrects the ARMSID detection.
Download: https://ultimate64.com/Firmware
---
The Tidbits are curated from original stories here and stories around the web. If you enjoy the weekly Tidbits consider a Like, Share or Subscribe to our social media. To submit news items for the Tidbits or any other feedback about the BBS or website send your inquires to [email protected].