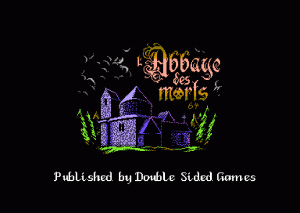 A new homebrew developer for retro platforms called Double Sided Games has just announced that they are going to be launching their first game for the C64 in Janurary of 2019. The game is called L'Abbaye des morts and Pre-Orders for the game are now available. The game will be released digitally and there were also be a limited production on floppy disk and cartridge.
About Double Sided Games:
Double Sided Games is a new homebrew video game publisher that will bring you new games for you old systems. We will focus on retro computers but we might support less common consoles such as the Amiga CD32 or the Amstrad GX4000 in the future.
Our first published game will be L'Abbaye des morts for the Commodore 64 and we already have other projects in the works for 2019.
We are situated in Canada, but our creators and developers are from all around the world.
If you have a video game project you would like to see have a physical release, being published, or simply looking for some help for the graphics/sound/coding, please contact us and we will help achieving your goals.