Robert Bernardo has updated the Retro-Link.org blog with a set of new photos from the PaCommEx 2019 last Saturday June 8th, 2019. He reports that Eric "AmigaLove" Hill's presentations on the Amiga 1000 Development System and the "new" Commodore compatable 3rd party hardware (C64 Reloaded MK2 and the Ultimate64) were very well-received.
Updated
Second Day Pictures from PaCommEx 2019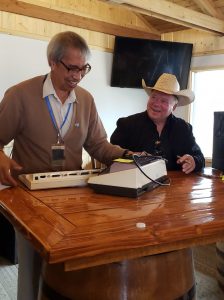 Robert Bernardo has added another batch of photos from PaCommEx 2019 and a couple of bonus photos from the Hollywood Charity Horseshow on June 1st with William Shatner. Enjoy.