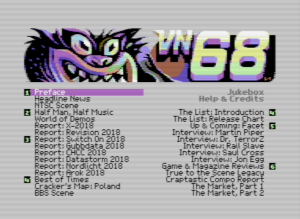 In this issue:
Headline news
World of Demos
Game & Magazine reviews!
Interviews with Martin Piper, Dr. TerrorZ, Saul Cross, Rail Slave & Jon Egg.
Ben Daglish: honoured and remembered! Ben remix sid inside VN68 intro. Special Ben anecdotes in "Preface" and "Half Man, Half Music" articles!
Partyzone: reporting exclusively from X, Datastorm, Gubbdata, Revision, Nordlicht and more! Special guests look back at X2018!
Pixel Perfection: Vandalism News 68 titlepicture drawn by Jailbird of Booze Design.
The Market: Vandalism News puts upcoming games and newly fondled exotic hardware under the magnifying glass!
Up & Coming: Facet of Genesis Project! An insight on his first three months on the C64 scene!
10 exclusive SID tracks inside! Bop your head to Jammer, JCH, Laxity, Zardax & Rock, Hein, Jeroen Tel, NecroPolo, No-XS, Vincenzo and CelticDesign.
True to the Scene Legacy: the C64 scene from a philosophical perspective by Bacchus of Fairlight.
Great Disk covers + Labels (by Lobo) and funky Directory Art (by SiNK)
Download links are at the bottom of the article.