Retropalooza
19oct(oct 19)9:00 am20(oct 20)5:00 pmRetropaloozaCOVID-19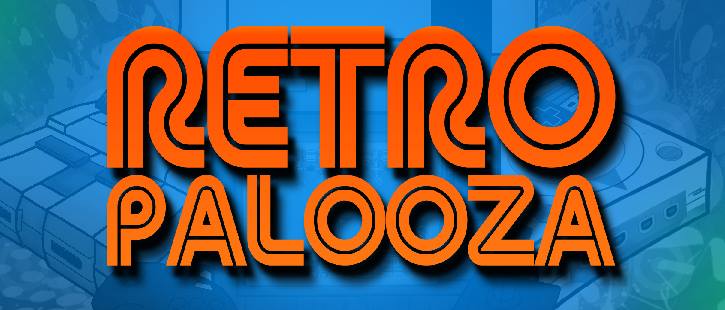 Event Details

A celebration of all things retro!  Retropalooza was started in 2013 in Arlington, Texas by a couple of guys who enjoy all things retro; from toys to music, to video games… especially video games.  As video game collectors, they spent a lot of time and money looking for retro games when they figured it would be easier to bring the games to them.  Thus, Retropalooza was born.

The goal of Retropalooza is to bring nerds from all walks of life together for an enjoyable, family friendly time.  Good old fashioned fun with like minded people where it will always be affordable, and forever improving.
SATURDAY
MAIN STAGE IN VENDOR HALL
1:00 PM
"Breaking Game Boundaries with Shesez"
Ever wanted to see what's off in the distance in Green Hill Zone? What Nintendo characters look like inside of Wario's mouth? Or see where the shy guys go in the Mario Kart track? Join Shesez from the YouTube series Boundary Break as he explores Super Smash Bros Melee and Brawl live. The event includes Q&A as well as the opportunity to give requests for what you'd like to see in Brawl or Melee.
2:00 PM
Starting and Maintaining a YouTube Channel
Come learn the basics on how to start and maintain a YouTube channel from the perspective of 4 successful and beautiful YouTubers.
4:00 PM
Game Show
HOTEL PANEL ROOM
SUNDAY
MAIN STAGE IN VENDOR HALL
1:00 PM
The Beautiful YouTube Gang
Come hang out and listen to 4 amazing and beautiful Youtubers. Ask questions pertaining to their channels and anything
2:00 PM
"TFS Gaming Playdate!"
Think you've got what it takes to challenge PROFESSIONAL video game players? Maybe you just want to play games with a group of buddies from the internet IN THE REAL WORLD? Experience competition, cooperation, and everything in-between with a smorgasbord of gaming delights! If you're up to the task, you might even find yourself winning a "fabulous prize" by the end of the night!
3:00 PM
All Guest Panel
Join all of the Retropalooza guests for one final session.
HOTEL PANEL ROOM
For more information, visit http://retropalooza.com/
more
Time

19 (Saturday) 9:00 am - 20 (Sunday) 5:00 pm CST